(954) 869-9759
Someone Has Been Mixing Deadly Carfentanil Into Street Heroin, and People Are Dying From Overdose All Over North America
In May of 2017, police near Pittsburgh, Pennsylvania, intercepted a delivery of 5 grams of a powder that turned out to be carfentanil, a dangerous elephant tranquilizer. If mixed into heroin, it was enough to taint 50,000 bags of street heroin. Carfentanil is so powerful, that a single grain of it can kill a human. The intended recipient had ordered the drug over the internet. The return address on the package was Naples, Florida.
In August, Dayton Ohio police arrested two men found with 9 ounces of carfentanil. That's 255 grams... 51 times as much as the Pittsburgh order. By October, Canadian police had tracked down and arrested a small Canadian business connected to numerous shipments of carfentanil to customers in the United States and a "dark web" site that promised hidden shipments that would not be detected by customs officials.
Carfentanil Has Already Been Distributed
The covert drug smugglers were importing carfentanil from overseas and selling it to opioid addicts via the dark web. While investigating, police intercepted 25 shipments and seized more than 120 grams of carfentanil. Investigators have to wear hazmat suits when opening these packages because carfentanil is so deadly.
Then in early November, an arrest of 6 street drug dealers in western Pennsylvania revealed all were selling mixtures of heroin, fentanyl, and carfentanil. A few days later, authorities responding to a carbon monoxide alarm discovered 42 kilograms... almost 100 pounds, of pure carfentanil in a basement. Estimated to represent almost a half million street doses of heroin laced with deadly carfentanil on the way to drug dealers all across North America.
The 2017 Carfentanil Death Count will be Staggering
The Florida Medical Examiner just released data for 2016 showing a "staggering" 97% increase in overdose deaths involving fentanyl or carfentanil, compared to 2015. National 2016 data compiled by the New York Times showed fentanyl/carfentanil far outpacing all other drugs involved in overdose deaths. Over 64,000 people died of drug overdose in America in 2016, and over 20,000 of those involved fentanyl/carfentanil. The rise of deaths from carfentanil is extreme, and the 2017 numbers are expected to be both horribly tragic and unbelievable.
Help Raise Awareness: Street Heroin is More Deadly Than Ever
Please help raise awareness of the lethal risks of heroin use and street drug use in 2017, as we continue to see more deadly fentanyl and carfentanil. The graphic below highglights the problem and urges everyone to become aware while highlighting available resources for those who need help with substance abuse.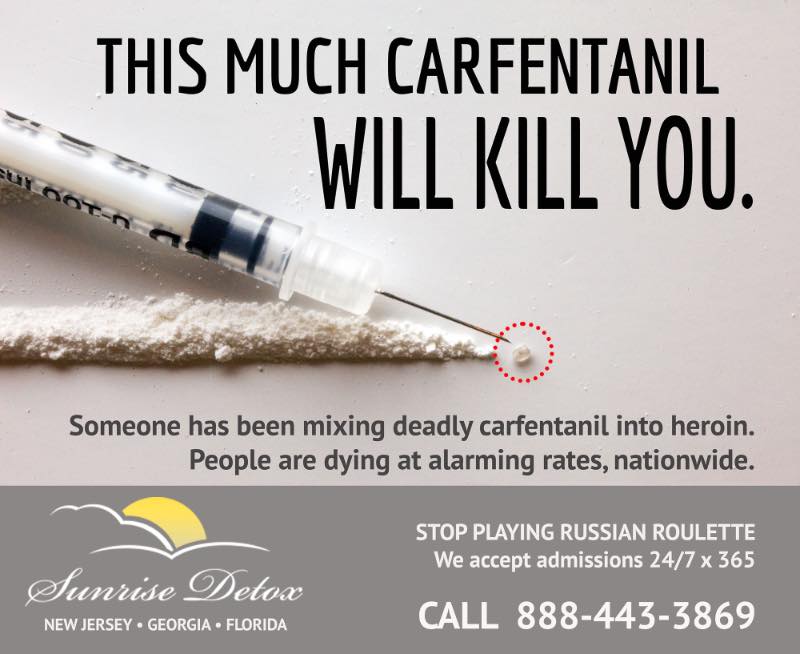 We Provide Medical Detox from Heroin, Opioids, Pain Killers, and detox from fentanyl/carfentanil.
It is essential that you ask for help at the moment you are willing to accept it. For many, that window of opportunity does not last long, due to the pressures of an active addiction. Can you call us right now?